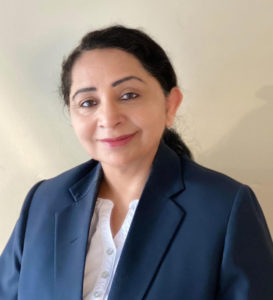 The Computer Science Department welcomes Dr. Bikram Pal Kaur Turka to the Department!
Dr. Turka earned her Ph.D degree in Computer Technology and Engineering from Punjabi University Patiala and Masters Degree in Computer science from Chaudhary Devi Lal University.  She completed her B.Tech in Computer Science from Punjabi University Patiala.
Prior to joining The College of New Jersey, Dr. Turka was the Professor in the Department of Computer Science & Information Technology at Chandigarh Engineering College, Landran, Mohali in India. She has more than 23 years of teaching experience and has served many academic institutions. Her teaching interests are Database management system, Operating System, Data communication, Computer Networks, Business Information System, Computer Architecture, Software Engineering and Enterprise Resource Planning. She has supervised many Masters in Technology Dissertations and also guided Ph.D students.
Dr. Turka has contributed more than thirty eight articles in various national/ international conferences and thirty four papers in research Journals. Her primary research area lies in Information System, ERP, AI, and Fuzzy System. Dr. Turka is a member of many professional societies such as Computer Society of India and International Society for Technology in Education. She is currently a member of the Editorial Review of journal of Inderscience Publishers.
Dr. Turka will teach two sections of CSC 220 and one section of CSC 250 in Fall 2020.