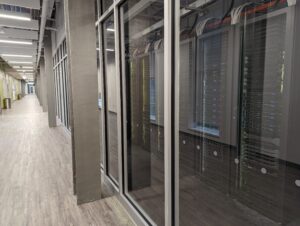 CS major Luke Kurlandski (Class of 2022) presented a research paper he co-authored with Dr. Michael Bloodgood at IEEE ICSC 2022, held January 26-28, 2022. Kurlandski and Dr. Bloodgood's paper, titled "Impact of Stop Sets on Stopping Active Learning for Text Classification", was one of nine papers nominated for the Best Paper Award at the conference. Kurlandski completed mentored research with Dr. Bloodgood in Fall 2021.
Kurlandski and Dr. Bloodgood used TCNJ's ELSA (Electronic Laboratory for Science and Analysis) high performance computing cluster to conduct their experiments. This cluster is funded by the National Science Foundation under NSF Award #1828163.
Kurlandski reflected on his mentored research experience with Dr. Bloodgood and his presentation at IEEE ICSC 2022: "The research process and the international conference were incredible learning experiences and I am thankful the College gave me this opportunity."
More information about IEEE ICSC can be found at: https://www.ieee-icsc.org/
Congratulations again to Luke and Dr. Bloodgood!