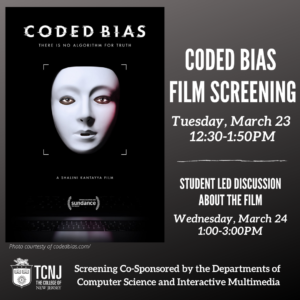 Join the Computer Science and Interactive Multimedia Departments on Tuesday, March 23 at 12:30pm for a screening of the film Coded Bias, followed by a student-led discussion about the film on Wednesday, March 24 at 1:00pm.
The link and password to access and view the virtual screening can be found below. There is a text chat via the IMM Discord Channel that will be active during the screening time as an optional interactive component, for attendees to post any questions/ideas/etc. that come up while watching.
The student-led discussion about the movie will take place on Wednesday, March 24 from 1:00-3:00pm and will be led by the Association for Computing Machinery, DIGIT.all, and Girls Who Code.
---
Virtual Screening (3/23):

 Virtual Screening Room: http://bit.ly/2PamW2H |Password: TRWMM21
(make sure to use this Discord link only once at the screening time, as it is temporary access and will expire)
This event is open to the entire campus community.
Coded Bias explores the fallout of MIT Media Lab researcher Joy Buolamwini's discovery that facial recognition does not see dark-skinned faces accurately, and her journey to push for the first-ever legislation in the U.S. to govern against bias in the algorithms that impact us all. Learn more about the film at https://www.codedbias.com/.