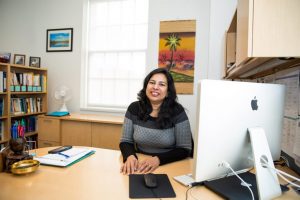 Dr. Monisha Pulimood has been named the next recipient of the Barbara Meyers Pelson '59 Chair in Faculty-Student Engagement, effective Fall 2018. As chair, Dr. Pulimood will be tasked with fostering faculty-student collaborations at TCNJ across disciplines and with community partners.
Congratulations to Dr. Pulimood on this achievement!
For more information, please see TCNJ's official news posting.