Our Computer Science mentored research capstone experience is an engaging way to develop skills outside of the classroom. Guided by a faculty member, students conduct research and development in areas beyond the traditional curriculum. Capstone students gain presentation skills by participating in either our Celebration of Computing event, held during the fall semester, or by presenting a poster during the college-wide spring event, Celebration of Student Achievement. Some students may be encouraged to present their research results at off-campus venues as well, such as regional and national conferences.
Recently, three Computer Science students successfully competed in the ACM Student Research Competition held at the 45th Technical Symposium on Computer Science Education, SIGCSE 2014 Conference in Atlanta, GA. Patrick D'Errico, Class of 2014; Joseph Canero, Class of 2015; and Conor Kelton, Class of 2015, were selected to participate in the annual undergraduate research competition based on research summaries they wrote and submitted for outside review this past fall. On the first day of the SIGCSE conference, they presented research posters describing their work to judges and conference attendees. Patrick presented the results of his research, BookNav: A System for Accessible Indoor Navigation on Mobile Android Devices. Joe and Conor collaborated as a team and presented their research project, CABECTPortal: An Investigation of Social Computational Systems. Both of these research projects were selected to advance to the next round of competition! On the last day of the conference, five projects selected for the final competition were presented, with students giving conference-style presentations to judges and computer science educators. Based on his research accomplishments and his formal presentation, senior Patrick D'Errico was awarded 3rd place in this national competition, receiving a medal and a monetary prize. Patrick is now eligible to participate in the ACM Student Research Grand Competition. Patrick will be pursuing a Ph.D. in Computer Science and has been accepted to a number of top programs.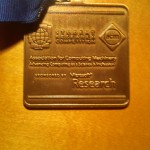 Congratulations to Conor, Joe, and Patrick for advancing to the final round at the SIGCSE 2014 ACM Undergraduate Student Research Competition! The Computer Science faculty and the TCNJ community are very proud of their accomplishments. A special commendation is extended to Patrick for his strong work and successful presentation. Patrick's 3rd place award in the undergraduate division was presented by the ACM Student Research Competition program and was sponsored by Microsoft Research.
Patrick D'Errico is mentored by Dr. Deborah Knox.
Abstract: BookNav is an indoor navigation system designed to direct patrons of the TCNJ library to specific books via WiFi. Navigation occurs through fingerprinting to approximate signal strengths at various points in the library, which are compared to the strengths at the user's location. Dijkstra's shortest path algorithm is used to develop turn-by-turn directions. BookNav was designed to provide accessible support to a broad range of end users through the use of the Android platform, which is easily available compared to other hardware used to support navigation systems for the visually impaired. BookNav requests the user to input the call number of the book they wish to find. After signal fingerprinting, BookNav provides a map and optional voiced directions to the desired book's bookcase.
Joseph Canero and Conor Kelton are mentored by Dr. Monisha Pulimood.
Abstract: We are investigating a way to disseminate ideas, models, projects and resources related to collaborations between computer science and diverse disciplines, and to track how these are being propagated. To do this we are designing a self-sustaining portal that leverages concepts from social computational systems. Such systems interleave human computation with social media, or any other medium that leverages natural human behavior, by providing motivation and mechanisms for quality control and task routing. We are accomplishing our task by developing a system that motivates its community to sustain it and to ensure that projects are kept up-to-date with reliable data, even past the funding period for the project.