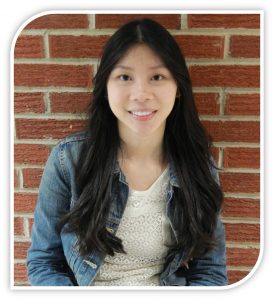 Article written by Dr. Deborah Knox
"Have you considered advanced work in programming languages?" began the email Angela Huang, Class of 2017, received in September.  Our faculty are always on the lookout for opportunities for TCNJ Computer Science students, and this particular email encouraged and guided Angela to prepare an application to attend the 6th ACM SIGPLAN (Special Interest Group on Programming Languages) Mentoring Workshop.  After writing her essay on what she hoped to gain from the workshop and working through some editing suggestions from Dr. Knox to strengthen her impact statement, Angela submitted her application in mid-October.
She received an invitation to attend the workshop and professional conference with a full scholarship, including registration fees, travel, and accommodations.   The Programming Languages Mentoring Workshop (PLMW) will be held in Paris, France, immediately before the Principals of Programming Languages Conference (POPL) during January 2017.   PLMW encourages senior undergraduate students to explore careers in programming language research.   The workshop will provide Angela mentoring for a research career in order to help her imagine how she might contribute to the research community.   Last year, the Workshop included sessions focused on topics such as how to succeed as a graduate student, how to write research papers, and how to decide on a research career in academia or industry.
In addition, during PLMW, Angela will listen to presentations given by world leaders in programming language research and engage in professional discussions.  PLMW is sponsored by NSF, ACM SIGPLAN, Amazon, Facebook, Jane Street Capital, Microsoft, and Google.  During the technical POPL conference, Angela will gain new insights as both theoretical and experimental papers will be discussed, with topics ranging from formal frameworks to experience reports.
Angela looks forward to the workshop: "I believe that when trying to get a sense of a particular research area, nothing can replace the impact that face-to-face interaction with real researchers in the field can have. Getting my questions answered by some of the field's experts, receiving advice from current graduate students, and meeting with students at similar stages in their research careers are all valuable interactions that this workshop openly offers."
Congratulations, Angela, for being selected to participate in this international opportunity!   
We look forward to hearing about your experiences at the workshop and conference.