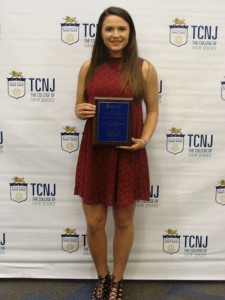 Computer Science and Mathematics double major Brittany Reedman (class of 2018) has been inducted into the TCNJ Blue and Gold Award Hall of Fame!  The Blue and Gold Awards honor students who have made significant and continual contributions to The College of New Jersey community as student leaders.   Students are nominated by faculty members and awardees are selected by a committee.  Brittany was the only sophomore of the ten awardees who were inducted on the evening of Wednesday, April 20 in the Education Building.
 "When I found out I was nominated for the Blue and Gold Hall of Fame, I was so grateful for having professors that believe in me and thought I would be deserving of such an award," Reedman said.  "With a school full of so many amazing leaders, all with a strong presence at TCNJ, I thought actually receiving the award was a long shot.  After discovering I was chosen for the Blue and Gold Hall of Fame, I was truly honored and now am more determined than ever to make my last two years here as impactful as possible."
In addition to her academic achievements, Brittany's accomplishments in the TCNJ community are equally impressive.  She is a member of TCNJ's honors program, plays on the college varsity tennis team, serves as secretary of the TCNJ chapter of the Association for Computing Machinery (ACM) and is president of the Women in Computer Science (WICS) organization.
As the WICS president, Brittany has invited inspirational and successful women in the computing field to speak to and meet with CS students.  She also introduced "Lean In Circles" based on the concept popularized by Sheryl Sandberg, CEO of Facebook, to provide an improved sense of community within the organization and to create a support structure for members.
In fall 2015, she applied for and received a very competitive scholarship that enabled her to attend the Grace Hopper Celebration of Women in Computing held in October 2015, in Houston, Texas.  The Grace Hopper Conference is the largest annual international gathering of women in the computing fields.
Brittany has also served as a student volunteer for many Computer Science open house and high school outreach events, and also helped organize and run the February 2016 HackTNCJ event.
Congratulations to Brittany on receiving this prestigious TCNJ award!
If you'd like additional information about the Blue and Gold Awards, please view the Office of Student Activities webpage.