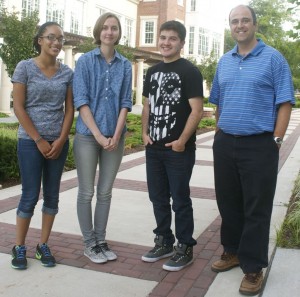 Joie Murphy (class of 2017), Kate Evans (2017), and J.R. Villari (2016) have received Collaborative Research Experience for Undergraduates (CREU) funding to perform research during the 2014-15 academic year under the supervision of Dr. Dimitris Papamichail. They will work on a project that aims to create efficient algorithms and computational tools for the construction of optimized, rationally-designed synthetic genes.
The funding is provided by the Computer Research Association's Committee on the Status of Women in Computing Research (CRA-W) and the Coalition to Diversify Computing (CDC), with support from the National Science Foundation (NSF).
Congratulations to J.R., Kate, and Joie on their achievements!