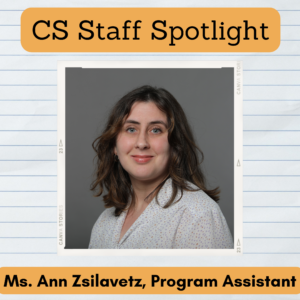 1. What is your favorite part about your job?
I feel pretty accomplished when I can solve a department "problem", like creating the first draft of the semester schedule of CS courses that (generally) works for most of the faculty, or enrolling students from our wait-list into classes.  I also enjoy any opportunities I have to talk with our students at the CS Socials.
2. What was your dream job as a child?
Like many people who were born in the late 80s and grew up in the early 90s, I wanted to be a marine biologist, teacher, paleontologist, and zookeeper, in no particular order.
3. What are your favorite places to eat in or around campus?
Yummy Sushi in Campustown or Mykonos on Scotch Road, just five minutes from campus.
4. What is your favorite non-academic book, movie, or tv show? 
Book:  Iwigara: The Kinship of Plants and People
Movie: The Lord of the Rings trilogy
TV Show:  Dark, Yellowjackets, Lost
5. What advice would you give to first-year students?
Come to the CS social events and go to the ACM & Digit.ALL meetings!  Getting to know your peers in the program will keep you from feeling isolated when the stress builds up.  Working hard and taking ownership of your academic performance is obviously important, but it's crucial that you take of yourself and tend to your own wellbeing.
6. What is your favorite place on campus?
I'm partial to the pathway behind the Music Building that goes from Kendall Hall to Bliss Hall. It's a very nostalgic walk for me as a TCNJ English Department alumna.
7. Please share a "fun fact" about you that hasn't been mentioned already. 
I've signed up for an herbalism apprenticeship program for the summer, so I'll be spending a lot of time in the garden this year!