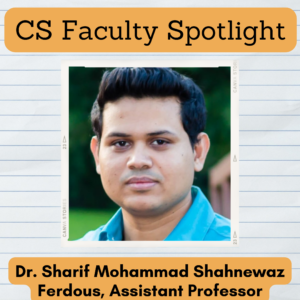 1. Why did you decide to study and teach Computer Science?
I am from Bangladesh, a tiny country with 170 million people. The best university in Bangladesh is BUET and Computer Science is the best subject there. You have to be within the top 120 of all the high school graduates in your country to be admitted there. This was the biggest motivation for me. I love teaching from a very early age. Since my major is in Computer Science, I am teaching it.
2. What have been your favorite classes that you have taught while at TCNJ?
CSC 230. I love efficient computing and CSC 230 is the core of it.
3. What is your favorite part about your job?
Interacting with the students.
4. What specific research topic/project are you most excited about this semester?
We are looking into cybersickness in virtual reality for people including children. This is the most exciting project for me.
5. What was your dream job as a child?
To be a detective like Sherlock Holmes.
6. What are your favorite places to eat in or around campus?
Nothing particular. I like the 1855 room.
7. What is your favorite non-academic book, movie, or tv show? 
Favorite movie – Gladiator.
Favorite tv show – Friends, Breaking Bad.
8. What advice would you give to first-year students?

Don't feel you are missing out on events, concentrate on your study.
9. What is your favorite place on campus?
Be punctual. Take ownership of your education. Focus on learning, not GPA.
10. Please share a "fun fact" about you that hasn't been mentioned already. 
My office.