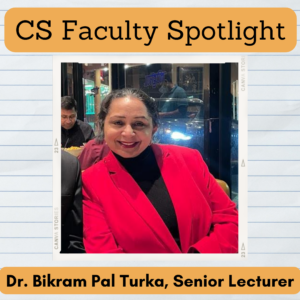 1. Why did you decide to study and teach Computer Science?
I decided to study and teach Computer Science because I am fascinated by the way technology has transformed the world around us. I see computer science as a constantly evolving field that has the power to change the way we live and work, and I want to be part of that change. Additionally, I enjoy problem-solving and logic, and I find that computer science provides a unique opportunity to apply these skills in a practical way. I also appreciate the interdisciplinary nature of the field, as it requires knowledge from mathematics, engineering, and other areas. Furthermore, I find teaching computer science to be a rewarding experience, as it allows me to share my passion and knowledge with students and help them develop the skills they need to succeed in today's digital world. I believe that by teaching computer science, I can make a positive impact on society and help prepare future generations for the challenges and opportunities of the 21st century.
2. What have been your favorite classes that you have taught while at TCNJ?
As a Computer Science faculty member, my favorite classes to teach have always been those related to programming languages like CSC 215, CSC 220, CSC 216, and Data Structures using Java CSC 250. I find that teaching programming languages offer a unique opportunity to engage with students and help them develop the practical skills needed to succeed in the field. It offers a unique opportunity to engage with students, challenge them to think critically and logically and help them develop the practical skills necessary to succeed in the field. Watching students progress from struggling with basic syntax to developing complex programs is incredibly rewarding, and it is an excellent way to
prepare them for real-world programming challenges.  Another subject that becomes my favorite is Discrete Structure. As a teacher of Discrete Mathematics, I enjoy teaching students how to approach and solve problems through the use of mathematical tools and concepts. It is a unique area of mathematics that offers practical applications in computer science, cryptography, and other fields.
3. What is your favorite part about your job?
My favorite part of the job is the opportunity to make a positive impact on students' lives. Whether it's teaching them new skills, challenging them to think critically, or helping them grow personally and professionally, being a part of students' academic and personal journeys is incredibly fulfilling. I love seeing students engage with the material, develop their own unique perspectives, and apply what they have learned in practical ways. It is incredibly rewarding to see students grow and succeed over time, and to know that I played a role in their development. Moreover, I find the academic environment to be stimulating and intellectually challenging. I enjoy being surrounded by colleagues who
share my passion for teaching and research, and who constantly push me to improve my own skills and knowledge.
4. What specific research topic/project are you most excited about this semester?
I am excited about several research topics/projects that I am working on. However, one area that I find particularly interesting and relevant to my teaching is Artificial Intelligence and Machine Learning. This research area is especially exciting because it has the potential to contribute to the development of new pedagogical approaches that can enhance student learning and engagement. By pursuing this research, I hope to contribute to the wider academic community, advance knowledge in this field, and ultimately make a positive impact on society.
5. What was your dream job as a child?
As a child, I dreamed of becoming a doctor, but as I grew up and developed an interest in technology and mathematics, I discovered my passion for Computer Science. I pursued this passion and became a Computer Science Faculty member. I have found immense fulfillment in my work as a Computer Science Faculty member. Through my teaching and research, I have been able to make a positive impact on the lives of others and help students develop the skills they need to succeed in the field. Overall, I am grateful for the opportunities and experiences that have led me to where I am today and I am committed to continuing to make a positive impact in the field of Computer Science as a Faculty member.
6. What are your favorite places to eat in or around campus?
I have many favorite places to eat on or around campus. Some of my top picks include IndiGrill restaurant for chicken tikka masala and Grilled boneless cubes of chicken simmered in velvety sauce and served with a side of basmati rice. It is a place where I could find good quality food, affordable prices, a convenient location, and a welcoming atmosphere. Another favorite place is RedBerry Frozen Yogurt and Smoothie Bar. I love its ice cream and yogurts. Nice place with many flavors that rotate and a big selection of toppings. Overall, there are many great places to eat on and around campus, and I enjoy the variety and quality of options available.
7. What is your favorite non-academic book, movie, or tv show? 
I like two popular TV shows: Good Witch and Manifest. Good Witch, starring Catherine Bell, Bailee Madison, and James Denton, follows the lives of the residents of Middleton, a fictional town, and their encounters with a good witch and her daughter who have magical powers. On the other hand, Manifest stars Melissa Roxburgh, Josh Dallas, and
Athena Karkanis, and is a supernatural drama series that explores the mysterious reappearance of a plane that was missing for five years. Both shows have loyal fan bases and have garnered positive reviews from viewers.
8. What advice would you give to first-year students?

I often have the opportunity to work with and advise incoming freshmen, and I have seen firsthand the challenges and opportunities that come with the transition to college. With that in mind, here are a few pieces of advice that I would offer to freshmen:
Take advantage of all the resources that are available to you. Colleges and universities offer a wide range of resources to help students succeed, such as tutoring services, academic advisors, and career counseling. Make sure to take advantage of these resources, as they can help you stay on track and reach your goals. Get involved in extracurricular activities. Joining clubs, organizations, or sports teams is a great way to meet new people, build new skills, and find a sense of community on campus. It can also help you develop leadership and teamwork skills that will be valuable in your future career.
Don't be afraid to ask for help. College can be challenging, and everyone struggles at some point. If you're struggling with coursework or other challenges, don't be afraid to reach out to faculties, advisors, or other support services for help. Asking for help is a sign of strength, not weakness, and it can help you overcome challenges and achieve your goals.
Prioritize your time and stay organized. With so many demands on your time, it's important to prioritize your activities and stay organized. Set goals for yourself, create a schedule and make sure to take breaks and take care of your health and well-being.
Overall, my advice to freshmen is to stay focused on their goals, be proactive in seeking help and support, and make the most of the opportunities available to them. College is a time of growth, exploration, and learning, and with the right mindset and support, you can achieve great things.
9. What is your favorite place on campus?
My office and Lake Ceva are great places for me. My office helps me to focus on my work and to connect with my students. I have decorated it with personal touches that make it a warm and inviting space, and I always try to make myself available to my students when they need help or advice. I also appreciate the quiet and privacy that my office provides, which is essential for grading papers, writing research papers, and planning lessons.  Lake Ceva is also a special and treasured place on campus that I always enjoy visiting. The lake is a beautiful and peaceful spot that provides a great escape from the hustle and bustle of campus life. Whether it's taking a leisurely stroll around the lake, sitting on a bench, and enjoying the view, or simply taking in the sounds of nature, the lake is a great place to relax and recharge.
10. Please share a "fun fact" about you that hasn't been mentioned already. 
Besides teaching and research, I have certain hobbies. I enjoy practicing yoga and spending time in my garden. Yoga helps me stay centered and focused, while gardening allows me to connect with nature and cultivate mindfulness.