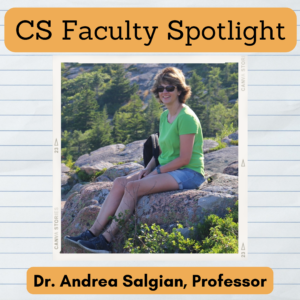 1. Why did you decide to study and teach Computer Science?
I have been fascinated by being able to get a computer to do things ever since I first played on a ZX Spectrum computer when I was in middle school. I'm happy I can do so much more these days.
2. What have been your favorite classes that you have taught while at TCNJ?
My favorite class to teach is definitely HCI, but I like all the classes that I teach.
3. What is your favorite part about your job?
Getting students excited about various topics, and seeing the amazing projects they put together.
4. What specific research topic/project are you most excited about this semester?
ASL recognition is really taking off; so many things to try, so many directions to go in.
5. What was your dream job as a child?
First I wanted to be a teacher, then I discovered computers, and finally I figured out that I could do both.
6. What are your favorite places to eat in or around campus?
Panera is always a safe choice.
7. What is your favorite non-academic book, movie, or tv show? 
I don't have all-time favorites, but here is what I really enjoyed lately:
Book: The Midnight Library by Matt Haig
Movie: Tar
Tv show: Ted Lasso and Grey's Anatomy
8. What advice would you give to first-year students?

Get involved.
9. What is your favorite place on campus?
Anywhere in the STEM building.
10. Please share a "fun fact" about you that hasn't been mentioned already. 
I am from Transylvania (Yes, it's a real place. No, there are no vampires.)