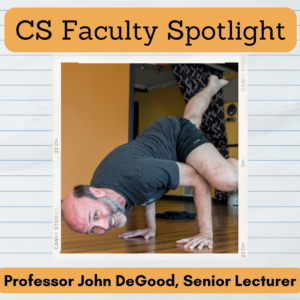 1. Why did you decide to study and teach Computer Science?
Making code come alive, especially at the hardware-software boundary, has always brought great joy to me.
2. What have been your favorite classes that you have taught while at TCNJ?
CSC 315: Database Systems; CSC 425: Compilers and Interpreters; CSC 435: Programming Languages
3. What is your favorite part about your job?
Learning so many new things every day.
4. What specific research topic/project are you most excited about this semester?
My new special topics course, CSC 470-01: Secure Coding.
5. What was your dream job as a child?
Scientist.
6. What are your favorite places to eat in or around campus?
Cafe 72.
7. What is your favorite non-academic book, movie, or tv show? 
Favorite movie: Citizen Kane.
8. What advice would you give to first-year students?

Don't procrastinate: start your assignments right away.
9. What is your favorite place on campus?
The TCNJ Ecological Study Forest and Nature Trail, located behind Kendall Hall.
10. Please share a "fun fact" about you that hasn't been mentioned already. 
My amateur "ham" radio callsign is NU3E. I have completed 2-way contacts with hams in all 50 states and over 110 countries.