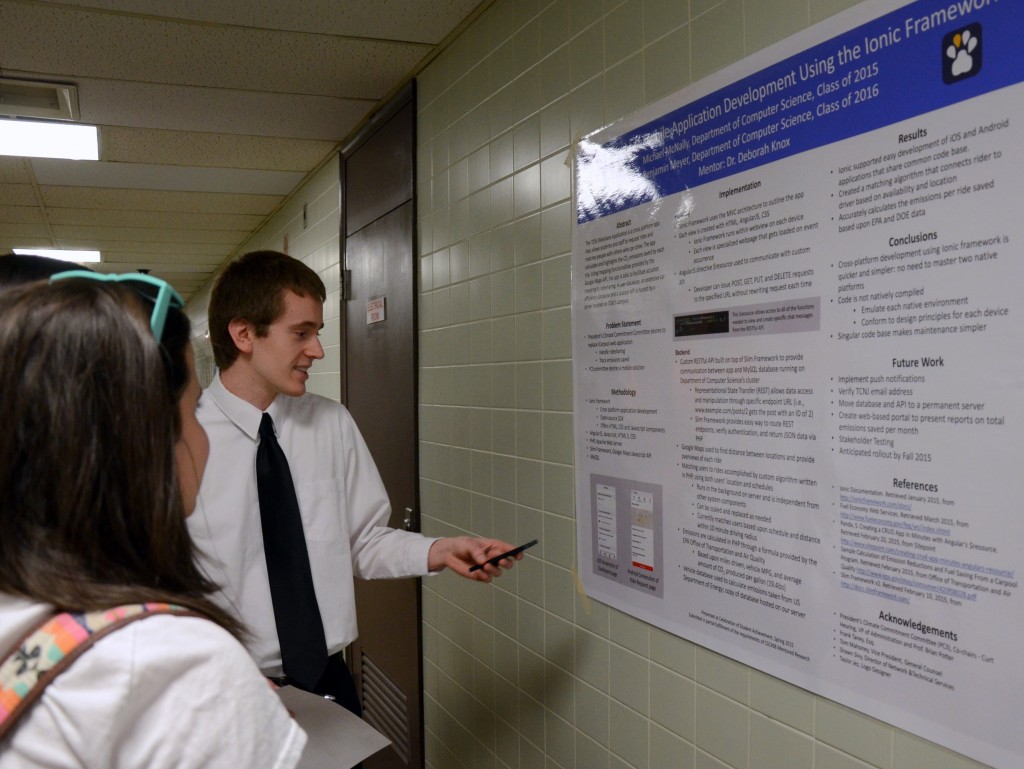 The TCNJ Rideshare app, developed by mentored research students Ben Meyer (senior CS and IMM double major) and Michael McNally (CS class of 2015) under the direction of Dr. Deborah Knox – is now live. Members of the campus community can use the free app to find people with whom to share rides, thus reducing the carbon footprint of campus.
Dr. Knox was contacted by Dr. Brian Potter, Associate Professor Department Chair of Political Science, in January 2015 as part of the President's Climate Commitment Committee (PC3) initiative for reducing the greenhouse gas emissions from TCNJ's campus. Dr. Knox's research lab has previously developed and produced a number of TCNJ mobile applications, including the TCNJ Campus Tour (iOS version released in 2012, now decommissioned and currently undergoing revision), TCNJ Library (iOS version released in 2012 and revised in 2013), and TCNJ Connect (both iOS 2014 and Android 2015).
The team reviewed existing carpooling software during the spring semester and, through meetings with Dr. Potter and the PC3 members, the group identified the program requirements for the new Rideshare app. Making an easy to use, mobile app was key, according to the PC3 members. Meyer and McNally were each heavily involved in developing storyboards and contributing to code development, and the team reviewed the modules on a weekly basis, with Dr. Knox serving as their campus liaison for privacy and legal logistics, as well as IT needs. The Rideshare app was developed using the Ionic framework and integrated the Google Maps API and an Environmental Protection Agency (EPA) standard in order to calculate the CO2 emissions saved. McNally developed an extensive vehicle efficiency database with a custom API to support back-end needs. Meyer made additional contributions through the development of an administrator's portal, which serves the PC3 members, allowing them to recognize overall reduction in greenhouse gases and to report the number of completed shared rides.
After stakeholder testing was conducted with students, faculty, and staff during the fall semester, the app was submitted and published on the Apple Store (iOS) and the Google Play Store (Android) in Fall 2015. The President's Climate Commitment Committee announced and encouraged use of the TCNJ Rideshare mobile app in February 2016. For more information on how to download and use the app, please see the Rideshare webpage: www.tcnj.edu/rideshare